You are currently browsing the tag archive for the 'Franklin Raines' tag.
     While Senator Barack Obama has enjoyed a few points extra in the polls as he extolls the Republicans and the Bush Administration as the villains of our present economic crisis, which is linked to the troubles in Fannie Mae and Freddie Mac, it seems that the Senator was learning real quick how to work the Washington system.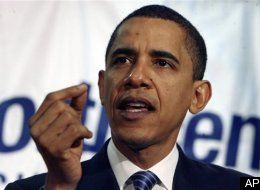 As Mr. Mudd explains, as the CEO of Fannie Mae, he knows that there are troubles ahead (stated in 2005), but with the "Family" of Democrats, and those within the Congressional Black Caucus, he knows that these fine leaders will continue to be their "Conscience", enabling Fannie Mae to continue to be the largest provider of loans for the "American Dream" to minorities.
    Now, Barack Obama blames Bush, McCain, and the Republicans for the mortgage crisis, the subprime mortgage disaster, and the subsequent fallout to other financial markets as a result. The subprime market can be traced backed to the "prosperous" Clinton era, and the push by community organizers to make loans available to those who might not qualify in traditional markets.
     On top of being deeply embedded in the blame for the mortgae crisis, Sen Obama is touting that his plans are THE PLANS for the nation's economic recovery. One of Obama's key ECONOMIC ADVISORS is Franklin Raines, the former CEO of …….  FANNIE MAE, who, on the backs of every American, he earned $90 MILLION Dollars in approximately 5 years at FANNIE MAE.
     We are to believe that Obama can fix our economy on the words of the man who can be attributed to singlehandedly aiming Fannie Mae toward a path of destruction!!!