You are currently browsing the tag archive for the 'Easter' tag.
When Jesus saw the crowds, he went up the mountain, and after he had sat down, his disciples came to him. He began to teach them, saying:
"Blessed are the poor in spirit, for theirs is the Kingdom of heaven.
Blessed are they who mourn, for they will be comforted.
Blessed are the meek, for they will inherit the land
Blessed are they who hunger and thirst for righteousness, for they will be satisfied.
Blessed are the merciful, for they will be shown mercy.
Blessed are the clean of heart, for they will see God. Blessed are the peacemakers, for they will be called children of God.
Blessed are they who are persecuted for the sake of righteousness, for theirs is the Kingdom of heaven.
Blessed are you when they insult you and persecute you and utter every kind of evil against you falsely because of me. Rejoice and be glad, for your reward will be great in heaven."
I have posted this before… it is simply a powerful performance!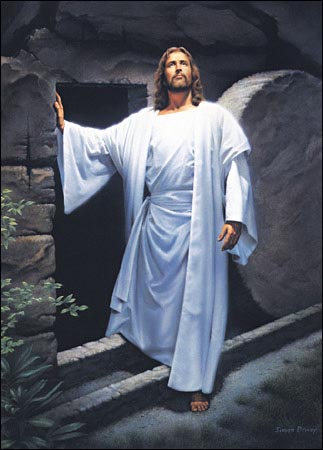 As we take time to share this day with our family and friends, may we all take this opportunity on this special day to give great thanks for the many blessings that we have in this life, for the loved ones we have, and for those whose memories we cherish!
     We spend a great deal of our lives, day after day, dealing with the daily chores, our careers, children, school, family, etc. Every now and then we should take the time to appreciate the great and many blessings we have, and why we strive so hard to protect the freedoms that we enjoy.
     Wishing you and yours a very special and Happy Easter.
      Some Gospel favorites:
      To the Christians around the world, this week is the holiest of Holy weeks, beginning today with Palm Sunday. Today marks the triumphant entry of Christ into Jerusalem, greeted as a King…. with Palms to line His way. What a difference a few days would make! This week is also the Holy week of Passover for our Jewish friends, a remembrance of the rescue of Israel from the slavery of Egypt.
Gotta Love this Judge!
You must read….a proper decision by courts…for a change.
PENNSYLVANIA COURT SETS ATHEIST HOLIDAY
In Pennsylvania, an atheist created a case against the upcoming Easter and Passover Holy Days.  He hired an attorney to bring a discrimination case against Christians and Jews and Observances of their holy  days.  The argument was that it was unfair that atheists had no such recognized days.
The case was brought before a judge.  After listening to the passionate presentation by the lawyer, the judge banged his gavel declaring, "Case dismissed!"
The lawyer immediately stood objecting to the ruling saying, "Your Honor, How can you possibly dismiss this case?  The Christians have Christmas, Easter and others.  The Jews have Passover, Yom Kippur and Hanukkah, yet my client and all other  atheists have no such holidays."
The judge leaned forward in his chair saying, "But you do.  Your client, counsel; is woefully ignorant."  The lawyer said, "Your Honor, we are unaware of any special observance or holiday for atheists."
The judge said, "The calendar says April 1st is April Fools Day.  Psalm 14:1 states, "The fool says in his heart, there is no God.  Thus, it is the opinion of this court, that, if your client says there is no God, then he is a fool.  Therefore, April 1st is his day.  Court is adjourned."
You gotta love a Judge who knows his scripture! (Even if the case is satire!)