Giving the ongoing appearance of his theme of "Change" in Washington, the President-Elect continues to put his Cabinet and Administration together, with more Clintonite staffers.
     Today, it has become apparent that the Obama team has been quitely checking the Senate votes to make sure that the probable Attorney General nominee would face minimal or no opposition in the confirmation process. Eric Holder, the controversial Clinton acting Attorney General, is the name that is presumed to be forthcoming as the first Black American AG nominee. Eric Holder, a 20-year veteran of the Justice Department, handled the list of pardons issued in the waning days of the Clinton presidency, and he has revealed little about the controversial pardon of fugitive financier Marc Rich. Some figure that Holder will be grilled in a confirmation hearing about the ties of the pardon to Rich's ex-wife and her sizable donation to the Clinton library.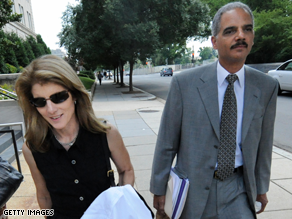 Caroline Kennedy Schlossberg and Eric Holder
     President-Elect Obama has had Eric Holder in his inner circle of the campaign. It was Holder along with Caroline Kennedy Schlossberg who headed up the Obama Veep vetting team. Now, with Holder, Rep. Rahm Emanuel, Greg Craig (as Sr. White House Counsel), and nearly 3 dozen other Clintonites tapped to serve the Obama White House, the candidate of Change is sending the clear message that Change comes in going back to a Clinton White House– This will be the ClintObama administration!!
      So, when is Hillary meeting with Condeleeza Rice to check out her new office!!